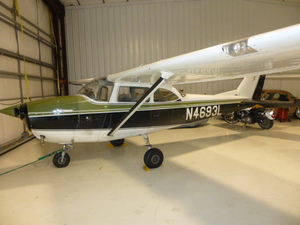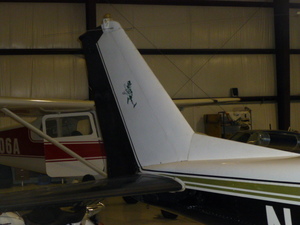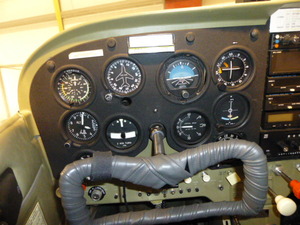 Click photo to enlarge
Sold
1966 Cessna 172G
Located in Kalispell, Montana
AIRFRAME:
5804.5 Total Time


Fresh annual as of April 2018.
Good glass.
Abrasion boots on horizontal stabilizer.
Paint 5/10.
---
ENGINE(S):
1068 SMOH 111.4 STOH*


Continental O-300-D 145 hp. Overhauled in 2006 by Pro Aero Engines. ECI Titan Cermenill cylinders installed. Excellent compressions: 78+/80. April 2018 annual. *All exhaust valves replaced and seats reground 111 hours ago. Newer Slick mags (199.8 hours ago). Spin-on oil filter.
---
INTERIOR:
Tan interior with green upholstry


Interior redone in 1993.
---
AVIONICS/PANEL:

Apollo S-10M Audio panel w/ 4-Place intercom.
Apollo GX60 GPS/Com w/ Loc.
Narco Com 810 TSO.
Narco Nav 825 w/GS/Loc.
Narco AT 165 TSO ATC Transponder w/ encoder.
300 ADF (inop).
EGT + Carb air temp.
Hobbs meter.
Avionics master switch.

---
OPTIONS:

Horton wing tips with strobes.
Horton flap and aileron gap seals.
Spin-on oil filter.
Pre-heater.
---
HISTORY:

Aircraft has lived in Idaho and Montana...mostly Montana. Slight wind damage to right aileron in 1993.






---
PRICE:




$29,900 SOLD




All specifications and representations are believed to be accurate to the best knowledge of the seller; however, it is the buyer's responsibility to verify all information prior to purchasing this Cessna 172G.
---
The owner of this 1966 Cessna 172G has hired a professional to handle all aspects of this sale and does not wish to receive any calls from potential buyers. If you are ready to purchase this aircraft, but would like to speak to the owner before proceeding, we will be happy to make arrangements for you. Please respect the owners wishes in this matter and contact Bruce Tulloch with any questions you may have. Thank you!
---
For more info about this Cessna 172G for sale please contact:


Bruce Tulloch

TullAirCo

Mobile: (406) 270-7320
Office: (406) 755-4550






---

This website is owned and operated by The Plane Exchange, Inc. ("Network"). However, independent aircraft brokers supply all information concerning each aircraft advertised hereon. Network is not the seller of the aircraft, and neither verifies nor warrants the information provided by the advertiser. Network has no control over the information supplied and makes no representations as to the accuracy, completeness or truthfulness of the information. Information posted on the website may contain inaccurate or incorrect information. It is the responsibility of any website user, buyer or seller to verify all information concerning an aircraft prior to reliance thereon and prior to any purchase or sale transaction. Network makes no representations or warranties whatsoever concerning any aircraft advertised hereon. IN NO EVENT WILL NETWORK BE LIABLE TO ANY PARTY FOR ANY DIRECT, INDIRECT, SPECIAL OR OTHER CONSEQUENTIAL DAMAGES FOR ANY USE OF THIS WEBSITE, OR ON ANY OTHER HYPERLINKED WEBSITE.


---