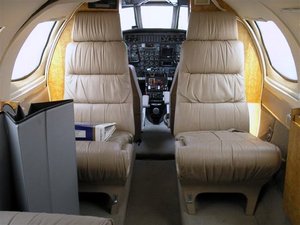 Click photo to enlarge
Sold
1976 Fairchild SA-226T Merlin III
Located in Colorado
AIRFRAME:
7821 Total Time


This aircraft has above average paint, over white with blue and cloud gray accents.
---
ENGINE(S):

Left egine has 3773 MOH
Right engine has 5400 MOH
Garrett TPE-331-3U-303G
---
INTERIOR:
Like new Interior!


The spacious cabin will seat 7 passengers, 4 place club seating with Mapco Executive table and 2 forward facing chairs. Tan coordinating carpet. Forward Refreshment area to serve your palate. VCR and 10 CD changer are like new. Aft belted flush potty with vanity and sink.
---
AVIONICS/PANEL:

Bendix M-4D Autopilot w/yaw damper
COM 1&2: Collins Proline VHF-20
NAV 1&2: Collins Proline Vir-30
Collins DME-40
Collins ADF-60
RMI 1&2: Aeronautics 3137
TXP 1&2: TRD-90
Bendix/King RDR160 Radar - Monochrome
King KLN-94 IFR GPS
TXP 1&2: TRD-90
BF Goodwich Skywatch 497
Avidyne EX-500 Multi-functional Display
TCAS
TAWS

---
OPTIONS:

Propeller Sync
Aft Baggage Restraints
Scott Quick Don Oxygen Masks
Collins FD-108Y
Cockpit Window Shades
Single red Line Auto Start System
Known Ice with Dual Heated Windshields


---
HISTORY:

This Aircraft is in the posession of a bank and is priced to sell FAST!



This Turboprop is available
As is ~ Where is.




---
PRICE:




**SOLD**




All specifications and representations are believed to be accurate to the best knowledge of the seller; however, it is the buyer's responsibility to verify all information prior to purchasing this Fairchild SA-226T Merlin III.
---
The owner of this 1976 Fairchild SA-226T Merlin III has hired a professional to handle all aspects of this sale and does not wish to receive any calls from potential buyers. If you are ready to purchase this aircraft, but would like to speak to the owner before proceeding, we will be happy to make arrangements for you. Please respect the owners wishes in this matter and contact Price Aircraft Sales with any questions you may have. Thank you!
---
For more info about this Fairchild SA-226T Merlin III for sale please contact:


Linda Price

Price Aircraft Sales, Inc.

(231) 330 - 4533






---

This website is owned and operated by The Plane Exchange, Inc. ("Network"). However, independent aircraft brokers supply all information concerning each aircraft advertised hereon. Network is not the seller of the aircraft, and neither verifies nor warrants the information provided by the advertiser. Network has no control over the information supplied and makes no representations as to the accuracy, completeness or truthfulness of the information. Information posted on the website may contain inaccurate or incorrect information. It is the responsibility of any website user, buyer or seller to verify all information concerning an aircraft prior to reliance thereon and prior to any purchase or sale transaction. Network makes no representations or warranties whatsoever concerning any aircraft advertised hereon. IN NO EVENT WILL NETWORK BE LIABLE TO ANY PARTY FOR ANY DIRECT, INDIRECT, SPECIAL OR OTHER CONSEQUENTIAL DAMAGES FOR ANY USE OF THIS WEBSITE, OR ON ANY OTHER HYPERLINKED WEBSITE.


---