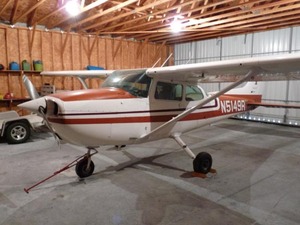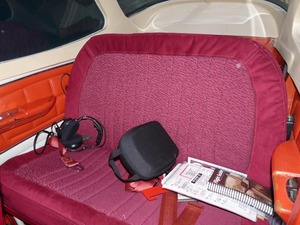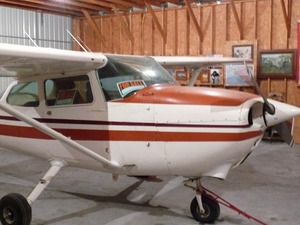 Click photo to enlarge
Sold
1974 Cessna 172M Skyhawk II
Located in Northwest Montana
AIRFRAME:
2801 Total Time


LOW time airframe. Original paint. Red and maroon on white. Hangared. Fixed pitch Sensenich 76EM8S14-0-60 prop. June 2015 annual. No wheel pants.
---
ENGINE(S):
1105 SFREM (2000 TBO)


Lycoming O-360-A4M. 180 HP. Airplanes 180 HP Mod. in 1995. July 2014 annual.
---
INTERIOR:
Reddish on creme.


New upholstry in 2005.
Very nice custom carbon-fiber instrument panel(2004).
---
AVIONICS/PANEL:

Michel 300 MX NavCom w/ LOC/GS (1994).
Michel 300 MX NavCom w/ LOC (1994).
Michel 300 ADF.
Michel 300 Transponder.
S-Tec 50 Auto Pilot (2-axis)
Garmin GPS map 496.
Apollo II Tomorrow Loran C.
4-Place Intercom.
JPI EDM Engine Monitor (1999).
Panel Port for plugging in handheld radio.
Quartz Chronometer.

---
OPTIONS:

Carbon-Fiber instrument panel (2004).
Tanis Engine Pre-heat (1999).
Exhaust cowl shroud to enhance airflow over engine.
Long range Fuel. Portable oxygen system possibly available.
---
HISTORY:

No known damage history.
GW = 2550 lbs.
EW = 1525 lbs.
Useful = 1025 lbs.
Always hangared.
Fuel: 52 gals. total and 48 useful.
Flown 30 hours in last year.



Very nice 172 with great performance. Some exterior paint could use a little touch-up but mainly needs to be waxed and buffed. No evidence of corrosion. Dry country aircraft. Owner says he gained 15 kts with 180 HP conversion...and of course climb performance was much improved.


---
PRICE:




$59,900 SOLD




All specifications and representations are believed to be accurate to the best knowledge of the seller; however, it is the buyer's responsibility to verify all information prior to purchasing this Cessna 172M Skyhawk II.
---
The owner of this 1974 Cessna 172M Skyhawk II has hired a professional to handle all aspects of this sale and does not wish to receive any calls from potential buyers. If you are ready to purchase this aircraft, but would like to speak to the owner before proceeding, we will be happy to make arrangements for you. Please respect the owners wishes in this matter and contact Bruce Tulloch with any questions you may have. Thank you!
---
For more info about this Cessna 172M Skyhawk II for sale please contact:


Bruce Tulloch

TullAirCo

Mobile: (406) 270-7320
Office: (406) 755-4550






---

This website is owned and operated by The Plane Exchange, Inc. ("Network"). However, independent aircraft brokers supply all information concerning each aircraft advertised hereon. Network is not the seller of the aircraft, and neither verifies nor warrants the information provided by the advertiser. Network has no control over the information supplied and makes no representations as to the accuracy, completeness or truthfulness of the information. Information posted on the website may contain inaccurate or incorrect information. It is the responsibility of any website user, buyer or seller to verify all information concerning an aircraft prior to reliance thereon and prior to any purchase or sale transaction. Network makes no representations or warranties whatsoever concerning any aircraft advertised hereon. IN NO EVENT WILL NETWORK BE LIABLE TO ANY PARTY FOR ANY DIRECT, INDIRECT, SPECIAL OR OTHER CONSEQUENTIAL DAMAGES FOR ANY USE OF THIS WEBSITE, OR ON ANY OTHER HYPERLINKED WEBSITE.


---