&nbsp


&nbsp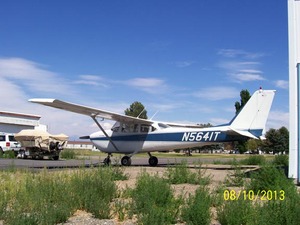 &nbsp


&nbsp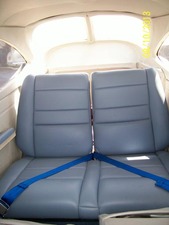 &nbsp


&nbsp


&nbsp


&nbsp


&nbsp

Click photo to enlarge


Sold
1964 Cesssna 172E
Located in NE Oregon
AIRFRAME: 2768 Total Time
New blue on white paint in 2005. Sharp paint scheme. Cleveland wheels and brakes. Nearly new tires. Just annualed April 2014.
---
ENGINE(S):

228 STOH, 1357 SMOH, 2768 TTE.


O-300D 145 hp Continental. TBO 1800. Overhauled in 1992 by Certified Engines Unlimited of Opa-Loca, FL. Top overhaul by JJ Aeronautics in 2004. Alternator upgrade. Just annualed April 2014.
---
INTERIOR:

Blue and creme


New leather upholstry in 2005.
Rosen visors.
---
AVIONICS/PANEL:


P.S. Eng. PMA-6000 Audio panel.
155 NavCom w/ GS.
King KI-209 CDI.
Garmin GNC 300XL GPS/Com.
Narco AT-150 Transponder.
4-Place intercom.
---
OPTIONS:


Cleveland wheels and brakes.
Alternator and ammeter upgrade.
Rosen visors.
Brackett induction air filter.
STC for auto gas (but no known use).
No known damage history.
---
HISTORY:
◆
Request More Info
---
All specifications and representations are believed to be accurate to the best knowledge of the seller; however, it is the buyer's responsibility to verify all information prior to purchasing this Cesssna 172E.
---
For more info about this Cesssna 172E for sale please contact:


---

This website is owned and operated by The Plane Exchange, Inc. ("Network"). However, independent aircraft brokers supply all information concerning each aircraft advertised hereon. Network is not the seller of the aircraft, and neither verifies nor warrants the information provided by the advertiser. Network has no control over the information supplied and makes no representations as to the accuracy, completeness or truthfulness of the information. Information posted on the website may contain inaccurate or incorrect information. It is the responsibility of any website user, buyer or seller to verify all information concerning an aircraft prior to reliance thereon and prior to any purchase or sale transaction. Network makes no representations or warranties whatsoever concerning any aircraft advertised hereon. IN NO EVENT WILL NETWORK BE LIABLE TO ANY PARTY FOR ANY DIRECT, INDIRECT, SPECIAL OR OTHER CONSEQUENTIAL DAMAGES FOR ANY USE OF THIS WEBSITE, OR ON ANY OTHER HYPERLINKED WEBSITE.


---
Buyer Resources
◆
Sell Your Aircraft
◆
Dealer Login
---