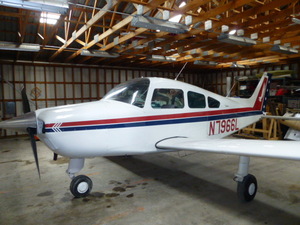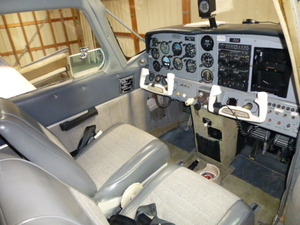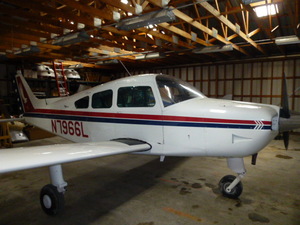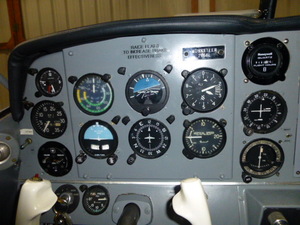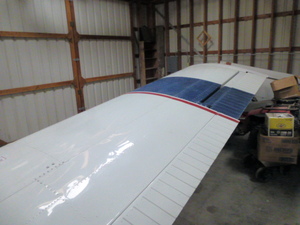 Click photo to enlarge
Sold
1966 Beechcraft C-23 Musketeer
Located in NW Montana
AIRFRAME:
7419 Total Time


Red and blue stripes on white. Excellent glass. Very good, clean condition. Dual brakes and controls. Repainted in 1975.
---
ENGINE(S):
385 SMOH 3617TT


Lycoming IO-360 A2B 200 HP. Overhauled by Tim's Aircraft Engines Inc. in Long Beach, CA on 6-29-10.
---
INTERIOR:
Gray Cloth


Excellent condition. 5th seat or child seat. Rosen visors. Artex interior in 1995.
---
AVIONICS/PANEL:

King KMA20 Audio Panel w/ Marker Beacon.
King KX170B w/ Loc.
King KX170B w/ Loc & GS.
King KT78 Transponder/Trans Cal Mod P-120-P2T and Blind encoder.
Garmin 796 GPS (panel mounted).
JPI EDM700 Engine monitor.
DC Clark ISOCOM 4-place intercom.
Ameriking 406 ELT.

---
OPTIONS:
---
HISTORY:

Idaho, Texas, Nevada and Kansas previous owners. Some hail damage in past but skins were replaced and dents removed. I could not see any evidence.






---
PRICE:




$39,500 SOLD




All specifications and representations are believed to be accurate to the best knowledge of the seller; however, it is the buyer's responsibility to verify all information prior to purchasing this Beechcraft C-23 Musketeer.
---
The owner of this 1966 Beechcraft C-23 Musketeer has hired a professional to handle all aspects of this sale and does not wish to receive any calls from potential buyers. If you are ready to purchase this aircraft, but would like to speak to the owner before proceeding, we will be happy to make arrangements for you. Please respect the owners wishes in this matter and contact Bruce Tulloch with any questions you may have. Thank you!
---
For more info about this Beechcraft C-23 Musketeer for sale please contact:


Bruce Tulloch

TullAirCo

Mobile: (406) 270-7320
Office: (406) 755-4550






---

This website is owned and operated by The Plane Exchange, Inc. ("Network"). However, independent aircraft brokers supply all information concerning each aircraft advertised hereon. Network is not the seller of the aircraft, and neither verifies nor warrants the information provided by the advertiser. Network has no control over the information supplied and makes no representations as to the accuracy, completeness or truthfulness of the information. Information posted on the website may contain inaccurate or incorrect information. It is the responsibility of any website user, buyer or seller to verify all information concerning an aircraft prior to reliance thereon and prior to any purchase or sale transaction. Network makes no representations or warranties whatsoever concerning any aircraft advertised hereon. IN NO EVENT WILL NETWORK BE LIABLE TO ANY PARTY FOR ANY DIRECT, INDIRECT, SPECIAL OR OTHER CONSEQUENTIAL DAMAGES FOR ANY USE OF THIS WEBSITE, OR ON ANY OTHER HYPERLINKED WEBSITE.


---