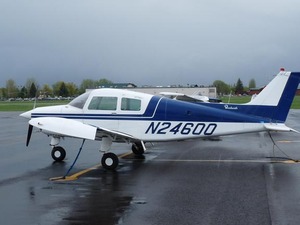 &nbsp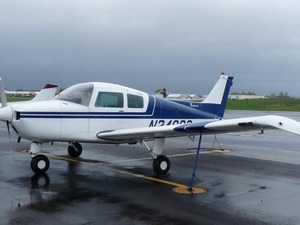 &nbsp


&nbsp


&nbsp

Click photo to enlarge


Sold
1972 Beechcraft B-19 Sport
Located in NW Montana
AIRFRAME: 3165 Total Time
Original blue on white paint. Call it a "6" out of 10. 2 ea. steel fuel tanks for a total of 60 gallons. Rotating tail light. New Gill G35-S no-maintenance battery. New main 6.00x6 main tires. Excellent logs; all manuals for all equipment. Prop repitched(56 to 54) in 9-4-02. Repainted 11-17-95. Out of Annual
---
ENGINE(S):

914 SMOH 3165 TT (2000 TBO) Overhauled in 1993. New exhaust in 2000.


Reliable Lycoming 0-320-E2C. Slick mags. All cylinders checked at 78/80 or better.
---
INTERIOR:

Tan interior with blue upholstry


All original. Excellent visibility. Rear bench seat. Dual controls. Doors on each side of front seats. Call it a 5 out of 10.
---
AVIONICS/PANEL:


King KX-170B NavCom with Glideslope
Bendix TR661A Encoding Transponder
Bendix T12C ADF
Garmin GPS 295
Dual PTT
---
OPTIONS:


Madras Air Super wing tips (Mdl 105).
---
HISTORY:


Current owner brought aircraft from Michigan in 2003.



◆

Request More Info



Cruises 105 kts. at 2700 rpm. EW = 1450 lbs. GW = 2150 lbs. useful load = 700 lbs. Wing damage in the past.(replaced right wing lower aft inboard skin with factory rivet pattern and specs in 2-20-1991.) Windshield has two small patches. Pilot vent opening is crazed. Engine compression is 78/80 or better on all cylinders!


---
All specifications and representations are believed to be accurate to the best knowledge of the seller; however, it is the buyer's responsibility to verify all information prior to purchasing this Beechcraft B-19 Sport.
---
For more info about this Beechcraft B-19 Sport for sale please contact:


---

This website is owned and operated by The Plane Exchange, Inc. ("Network"). However, independent aircraft brokers supply all information concerning each aircraft advertised hereon. Network is not the seller of the aircraft, and neither verifies nor warrants the information provided by the advertiser. Network has no control over the information supplied and makes no representations as to the accuracy, completeness or truthfulness of the information. Information posted on the website may contain inaccurate or incorrect information. It is the responsibility of any website user, buyer or seller to verify all information concerning an aircraft prior to reliance thereon and prior to any purchase or sale transaction. Network makes no representations or warranties whatsoever concerning any aircraft advertised hereon. IN NO EVENT WILL NETWORK BE LIABLE TO ANY PARTY FOR ANY DIRECT, INDIRECT, SPECIAL OR OTHER CONSEQUENTIAL DAMAGES FOR ANY USE OF THIS WEBSITE, OR ON ANY OTHER HYPERLINKED WEBSITE.


---
Buyer Resources
◆
Sell Your Aircraft
◆
Dealer Login
---