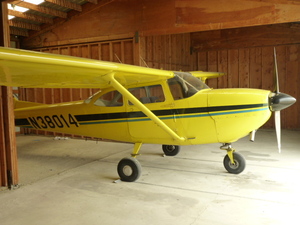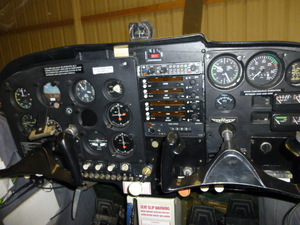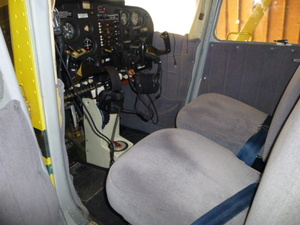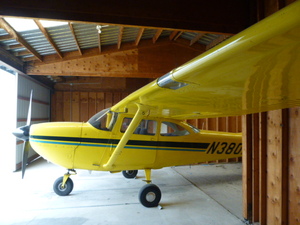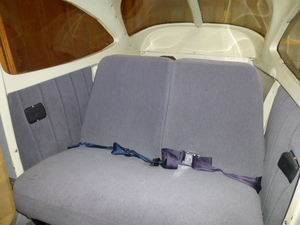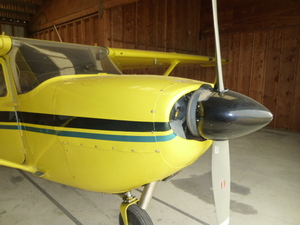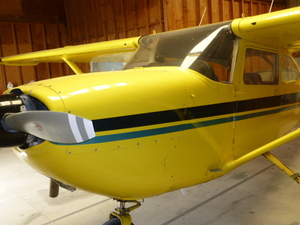 Click photo to enlarge
Sold
1964 Cessna R172E
Located in NW Montana
AIRFRAME:
8007 Total Time


Hartzell CS Prop model HC-C2YR-1BF. Hoton STOL. Newer interior. Articulating front seats. Factory corrosion proofing. Green and black trim on bright yellow paint.
---
ENGINE(S):
390 SMOH (2000 HR TBO)


180 HP Lycoming O-360-A1D August 2015 annual. New Kinsley muffler and rebuilt carb air box.
---
INTERIOR:
Grey


Grey Woolrich felt upholstry and headliner in 2011.
---
AVIONICS/PANEL:

PS Engineering audio panel w/marker lights.
MX385 NavCom LOC/GS.
MX385 NavCom LOC.
Sperry R459A Transponder.
Avionics international 4-place intercom.
Dual PTT.
Remote ELT switch.
Newer Kennad 121.5/406 ELT.

---
OPTIONS:

Avcon 180 HP O-360 Lycoming conversion in 1981.
Horton STOL kit in 1981.
24 volt electrical system.
Factory corrosion proofing.
Both front seats are articulating.
Electric fuel pump.
Lifting eye-bolts
External APU plug-in recepticle.
46 gallons useable fuel.
---
HISTORY:

No known damage history.
Previously a USAF Cessna T-41-B.
Owned in Alabama, Texas and Montana.
Logs lost prior to 1999.



Hangared and flown for 50 hours in past 12 months.


---
PRICE:




$40,000 SOLD




All specifications and representations are believed to be accurate to the best knowledge of the seller; however, it is the buyer's responsibility to verify all information prior to purchasing this Cessna R172E.
---
The owner of this 1964 Cessna R172E has hired a professional to handle all aspects of this sale and does not wish to receive any calls from potential buyers. If you are ready to purchase this aircraft, but would like to speak to the owner before proceeding, we will be happy to make arrangements for you. Please respect the owners wishes in this matter and contact Bruce Tulloch with any questions you may have. Thank you!
---
For more info about this Cessna R172E for sale please contact:


Bruce Tulloch

TullAirCo

Mobile: (406) 270-7320
Office: (406) 755-4550






---

This website is owned and operated by The Plane Exchange, Inc. ("Network"). However, independent aircraft brokers supply all information concerning each aircraft advertised hereon. Network is not the seller of the aircraft, and neither verifies nor warrants the information provided by the advertiser. Network has no control over the information supplied and makes no representations as to the accuracy, completeness or truthfulness of the information. Information posted on the website may contain inaccurate or incorrect information. It is the responsibility of any website user, buyer or seller to verify all information concerning an aircraft prior to reliance thereon and prior to any purchase or sale transaction. Network makes no representations or warranties whatsoever concerning any aircraft advertised hereon. IN NO EVENT WILL NETWORK BE LIABLE TO ANY PARTY FOR ANY DIRECT, INDIRECT, SPECIAL OR OTHER CONSEQUENTIAL DAMAGES FOR ANY USE OF THIS WEBSITE, OR ON ANY OTHER HYPERLINKED WEBSITE.


---