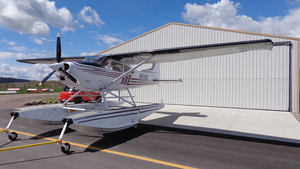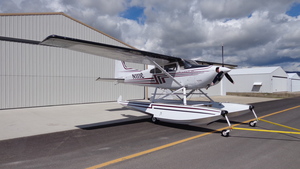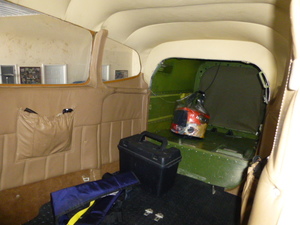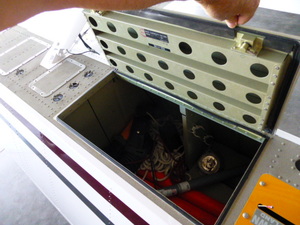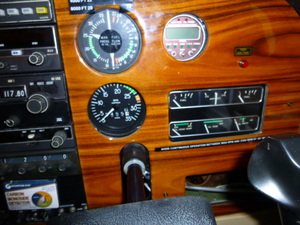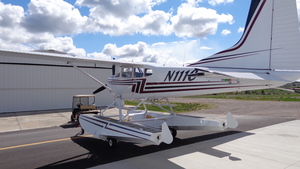 Click photo to enlarge
Sold
1975 Cessna 185F
Located in NW Montana
AIRFRAME:
3450.3 Total Time


Wipaire 3000A Amphib floats...new in 2001. Beautiful custom walnut instrument panel. T configuration found on 1978 and later models. LRT. New right wing fuel bladder in 2015. 3-blade McCauley D3A34C401 Black Max 86" balanced prop. Excellent condition! New paint in 2000 by Cardin of Red Bluff, CA. Charcoal and deep red trim on bright white. Always hangared. Fresh annual completed August 2017 See options list! NO damage history!
---
ENGINE(S):
636.8 SMOH 1786 TTSN


Continental IO-520D with GAMI injectors. New in 1997 and overhauled after 1150 hours in 2005 by Ly-con. Custom build - blue printed, balanced, ported/relieved. Ceramic topped pistons. Cooler running and dyno'd at 346 HP. VAR crank. Large oil cooler. K&N air filter. Fresh annual completed August 2017. Compressions: 76+/80.
---
INTERIOR:
Tan and brown.


New interior in 2015: leather and fleece seats, side panels, heavy duty rubber floor mats.
---
AVIONICS/PANEL:

King KMA 20 Audio panel w/ 3-light Mkr.
King KX-155 NavCom w/ KI-209 GS/LOC.
King KX-170B NavCom w/ KI-209 GS/LOC.
King KT-76A Transponder w/ Mode C encoder.
S-Tec 50 2-axis Auto pilot.
Garmin 396 GPS.
Sigtronics SPA-400 4-place intercom.
Electronics International Fuel flow/totalizer..
Electronics International 6 point EGT/CHT.
Electronics international chronometer.
Course deviation indicator.
Davtron digital clock and alarm.
Yoke mounted PTT and AP disconnect.
Avionics master switch.
Remote ELT switch.







---
OPTIONS:

1. Factory float kit.
2. Long range fuel (84 gallons, 78 usable).
3. Heavy duty Kosola engine mount.
4. ART Wing-X extensions.
5. Horton stall fences.
6. VGs on wings and empanage.
7. BAS inertial reel harnesses.
8. BAS gearbox kit.
10. Lifting rings.
11. Lake & Air landing gear position and advisory system.
12. Revised main strut geometry to shorten water run.
13. Bench middle seat...or..
14. Middle jump seats
15. Aft child's seat.
16. Articulating pilot and co-pilot seats.
17. Horizontal stabilizer rubber abrasion boots.
18. Conventional landing gear.
19. Standard and heavy duty tail wheel assemblies and wheels.
20. Wing-mounted camera mount and Garmin camera.
21. Set of Wipaire 3730 pork chops.
22. External power plug.
23. Wheel pants.
24. Fueling steps and handles.
25. Steps for when on conventional gear.
26. Flap gap seals.
27. Rosen visors.
28. Wipaire 3000A amphibian floats - no salt water and very low time.
---
HISTORY:

California, Nevada and Montana.






---
PRICE:




$219,000 (SOLD)




All specifications and representations are believed to be accurate to the best knowledge of the seller; however, it is the buyer's responsibility to verify all information prior to purchasing this Cessna 185F.
---
The owner of this 1975 Cessna 185F has hired a professional to handle all aspects of this sale and does not wish to receive any calls from potential buyers. If you are ready to purchase this aircraft, but would like to speak to the owner before proceeding, we will be happy to make arrangements for you. Please respect the owners wishes in this matter and contact Bruce Tulloch with any questions you may have. Thank you!
---
For more info about this Cessna 185F for sale please contact:


Bruce Tulloch

TullAirCo

Mobile: (406) 270-7320
Office: (406) 755-4550






---

This website is owned and operated by The Plane Exchange, Inc. ("Network"). However, independent aircraft brokers supply all information concerning each aircraft advertised hereon. Network is not the seller of the aircraft, and neither verifies nor warrants the information provided by the advertiser. Network has no control over the information supplied and makes no representations as to the accuracy, completeness or truthfulness of the information. Information posted on the website may contain inaccurate or incorrect information. It is the responsibility of any website user, buyer or seller to verify all information concerning an aircraft prior to reliance thereon and prior to any purchase or sale transaction. Network makes no representations or warranties whatsoever concerning any aircraft advertised hereon. IN NO EVENT WILL NETWORK BE LIABLE TO ANY PARTY FOR ANY DIRECT, INDIRECT, SPECIAL OR OTHER CONSEQUENTIAL DAMAGES FOR ANY USE OF THIS WEBSITE, OR ON ANY OTHER HYPERLINKED WEBSITE.


---