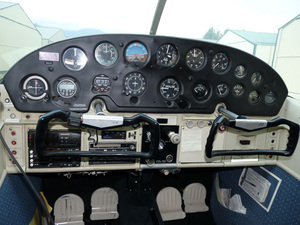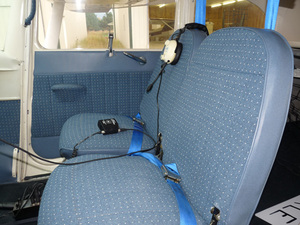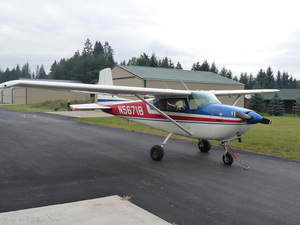 Click photo to enlarge
Sold
1956 Cessna 182
Located in NW Montana
AIRFRAME:
3413 Total Time


Red and blue on white original paint scheme. Hangared past 11 years. Newer glass - Very clean and wants to go flying! Wing tip strobes. 8.00x6 main gear and 6.00x6 nose gear. Cleveland brakes. 58 gal fuel capacity. Manual flaps a real plus!! (Broker's opinion!) Fresh annual with purchase.
---
ENGINE(S):
3378 TT 39 SMOH Fresh annual with purchase.


Continental O-470-L 230 HP. Slick mags. Installed 8/2005. Millenium Cylinders to comply with AD installed 6/2009. Compressions all 78-79/80 on last annual. McCauley Prop MN 2A36C29-ACF. 191 SMOH in '98.
---
INTERIOR:
Blue and Creme


Very good condition - upholstry, side panels and carpets in '95 and headliner in '94. Shoulder harnesses for front seats.
---
AVIONICS/PANEL:

Apollo GPS 2001 NMS
King KY97A TSO Com
TKM MX 170B NavCom
King KT76A Transponder
LOC/GS
3-Light marker lights
Narco AR 850 blind Encoding altimeter
EGT
Electronics International Fuel Flow
DataCon Hobbs Meter
FlightCom 2-place intercom
DC Clark noise reduction system
DC Clark H-10 Noise cnacelling headset
Light Speed noise reduction headset
Vertical card compass
Quartz chronometer
---
OPTIONS:

Wing tip strobes. Clevland wheels/brakes. Shoulder harnesses.
---
HISTORY:

Previously owned in Washington, Oregon and Michigan. DH: Hard landing in 1960 - replaced gear box rivets. Repairs to nose gear and RH gear support in 1969. GW = 2550 lbs. EW = 1560 lbs. Useful = 990 lbs.



Same owner for last 11 years. Paint is fair; interior is very good. This aircraft is in excellent condition mechanically and is allot of performance and value for the price.


---
PRICE:




$45,000 SOLD




All specifications and representations are believed to be accurate to the best knowledge of the seller; however, it is the buyer's responsibility to verify all information prior to purchasing this Cessna 182.
---
The owner of this 1956 Cessna 182 has hired a professional to handle all aspects of this sale and does not wish to receive any calls from potential buyers. If you are ready to purchase this aircraft, but would like to speak to the owner before proceeding, we will be happy to make arrangements for you. Please respect the owners wishes in this matter and contact Bruce Tulloch with any questions you may have. Thank you!
---
For more info about this Cessna 182 for sale please contact:


Bruce Tulloch

TullAirCo

Mobile: (406) 270-7320
Office: (406) 755-4550






---

This website is owned and operated by The Plane Exchange, Inc. ("Network"). However, independent aircraft brokers supply all information concerning each aircraft advertised hereon. Network is not the seller of the aircraft, and neither verifies nor warrants the information provided by the advertiser. Network has no control over the information supplied and makes no representations as to the accuracy, completeness or truthfulness of the information. Information posted on the website may contain inaccurate or incorrect information. It is the responsibility of any website user, buyer or seller to verify all information concerning an aircraft prior to reliance thereon and prior to any purchase or sale transaction. Network makes no representations or warranties whatsoever concerning any aircraft advertised hereon. IN NO EVENT WILL NETWORK BE LIABLE TO ANY PARTY FOR ANY DIRECT, INDIRECT, SPECIAL OR OTHER CONSEQUENTIAL DAMAGES FOR ANY USE OF THIS WEBSITE, OR ON ANY OTHER HYPERLINKED WEBSITE.


---