Bruce Tulloch
TullAirCo - Kalispell, MT



TRAINING: Moody Bible Institute's missionary aviation training center in Tennessee
INITIAL GOAL: Gain a year's flight experience and then go overseas in a jungle pilot/mechanic and government relations position with JAARS (Jungle Aviation and Radio Service). He enjoyed flying float-equipped Beavers and Cessna 180s and purchased the 180 he has now owned for 31 years.
WORK EXPERIENCE:
--A&P mechanic Seattle, WA and Ketchikan, AK
--Corporate and Charter Pilot/Mechanic Petersburg, AK (Known as One Five Victor (15V) to the fishing fleet.)
AIR TIME: 10,000 hours, mostly in Alaska on floats, amphibians, tail draggers.
LICENSES: Commercial and A&P. Ratings: ASEL, ASES, MEL, Instrument.
PERSONAL AIRCRAFT: Cessna 185 amphibian, Cessna 180 (modified) on floats and wheels.
FLYING BUSINESSES:
1) Part 91 contract with a major fishing company Petersburg,AK
2) Part 135 air taxi (Nordic Air, Inc.) - Petersburg AK
RELATED EXPERIENCE:
1) Southeast Alaska fishing fleet manager
2) Independent fish spotter
3) Former Owner/Broker (Tidewater Brokerage, Inc.) marine brokerage for commercial fishing vessels and related commercial permits and IFQs and some aircraft.
4) Owner/Broker of Montana Land and Home, Inc.- real estate brokerage(www.MontanaLandAndHome.com) 5) Member AOPA since 1978
CURRENT GOAL: Although Bruce has dabbled in aircraft brokerage from time to time, he has now associated (TullAirCo) with The Plane Exchange broker network. Loving life, people, aviation, attending to detail and possessing a servant mindset – Bruce will look forward to meeting you to help simplify and expedite your aviation needs!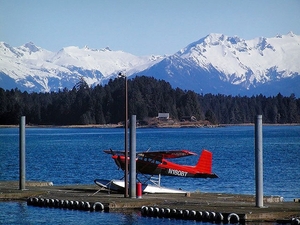 On the ramp - Petersburg, Alaska

---

This website is owned and operated by The Plane Exchange, Inc. ("Network"). However, independent aircraft brokers supply all information concerning each aircraft advertised hereon. Network is not the seller of the aircraft, and neither verifies nor warrants the information provided by the advertiser. Network has no control over the information supplied and makes no representations as to the accuracy, completeness or truthfulness of the information. Information posted on the website may contain inaccurate or incorrect information. It is the responsibility of any website user, buyer or seller to verify all information concerning an aircraft prior to reliance thereon and prior to any purchase or sale transaction. Network makes no representations or warranties whatsoever concerning any aircraft advertised hereon. IN NO EVENT WILL NETWORK BE LIABLE TO ANY PARTY FOR ANY DIRECT, INDIRECT, SPECIAL OR OTHER CONSEQUENTIAL DAMAGES FOR ANY USE OF THIS WEBSITE, OR ON ANY OTHER HYPERLINKED WEBSITE.


---