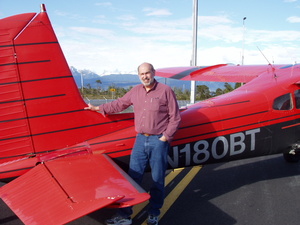 Bruce Tulloch
TullAirCo - Kalispell, MT
Bruce's 10,000 flight hours come primarily from floatplane and amphibian contracts in the Alaska fishing industry and air taxi services. His seasoned contract and marketing expertise stems from managing a major Southeast Alaska fishing fleet, pilot/owner of an Alaskan air taxi, (NordicAir) owner/broker of a marine brokerage (Tidewater Brokerage) and currently as owner/broker of his own Kalispell, MT real estate brokerage (Montana Land and Home). Bruce will look forward to meeting you and helping to simplify and expedite your aviation goals!
Phone: Mobile: (406) 270-7320
Office: (406) 755-4550

Price Aircraft Sales
Bozeman, Montana
Price Aircraft Sales, Inc. is a family owned and operated, International Aircraft Brokerage Company, specializing in single and multi-engine piston and turbine aircraft Sales. We have successfully helped first-time buyers worldwide become happy aircraft owners. We also have extensive experience supplying quality aircraft to flight schools and flying clubs across the globe. Let our friendly team help you buy or sell your next airplane!
Phone: (231) 330 - 4533