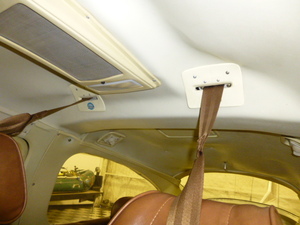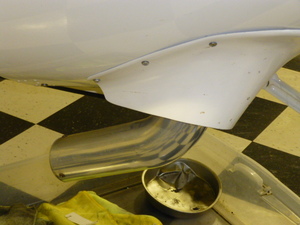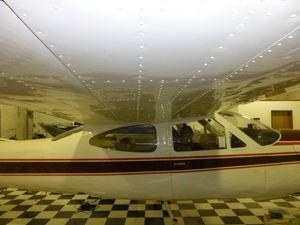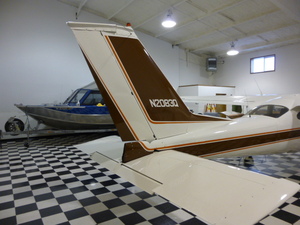 Click photo to enlarge
Sold
1974 Cessna Cardinal 177 RG
Located in NW Montana
AIRFRAME:
3374 Total Time


Very clean, straight aircraft with very good paint. 86 SOH on the McCauley B2D34C207 prop. Brown with burnt orange stripe on white paint as of 2-12-07. Tail cone speed fairing.Power flow exhaust with speed fairing. Excellent glass. Well maintained. Always hangared. New battery 1-/2 years ago. May 2015 annual.
---
ENGINE(S):
86 SMOH


Lycoming IO-360-A1B6. 200 HP. Separate output shafts for each mag. Light weight starter and alternator. PowerFlow exhaust with extension. KN air filter. GAMI injectors. Larger oil cooler. Annualed May 2015.
---
INTERIOR:
Brown and tan.


Very well kept original interior. BAS double shoulder inertial reel shoulder harness mod for front seats. Easy ingress/egress doors. Gear motor running light.
---
AVIONICS/PANEL:

Cessna audio panel.
MX 300 NavCom w/ GS/LOC.
MX 300 NavCom w/ LOC.
Apolllo GX55 GPS coupled with autopilot.
300A Nav-o-matic auto pilot.
300 transponder.
JPI 450 fuel flow system.
GEM 602 engine analyzer.
JPI 830 engine analyzer
Telex 4-place intercom.
**NOTE: Garmin 796 NOT included.

---
OPTIONS:

PowerFlow exhaust system with extension.
BAS shoulder harness systems.
Light weight starter.
Light weight alternator.
Tail cone speed fairing.
KN air filter.
GAMI injectors.
Exhaust stack speed fairing.
Original dual mags with one output shaft replaced with dual mags with separate output shafts.
---
HISTORY:

Montana aircraft. No known damage. Always hangared.
Useful load of 1035 lbs.
61 gallons fuel.



This aircraft has about all the mods one could find for a 177RG


---
PRICE:




$79,975 SOLD




All specifications and representations are believed to be accurate to the best knowledge of the seller; however, it is the buyer's responsibility to verify all information prior to purchasing this Cessna Cardinal 177 RG.
---
The owner of this 1974 Cessna Cardinal 177 RG has hired a professional to handle all aspects of this sale and does not wish to receive any calls from potential buyers. If you are ready to purchase this aircraft, but would like to speak to the owner before proceeding, we will be happy to make arrangements for you. Please respect the owners wishes in this matter and contact Bruce Tulloch with any questions you may have. Thank you!
---
For more info about this Cessna Cardinal 177 RG for sale please contact:


Bruce Tulloch

TullAirCo

Mobile: (406) 270-7320
Office: (406) 755-4550






---

This website is owned and operated by The Plane Exchange, Inc. ("Network"). However, independent aircraft brokers supply all information concerning each aircraft advertised hereon. Network is not the seller of the aircraft, and neither verifies nor warrants the information provided by the advertiser. Network has no control over the information supplied and makes no representations as to the accuracy, completeness or truthfulness of the information. Information posted on the website may contain inaccurate or incorrect information. It is the responsibility of any website user, buyer or seller to verify all information concerning an aircraft prior to reliance thereon and prior to any purchase or sale transaction. Network makes no representations or warranties whatsoever concerning any aircraft advertised hereon. IN NO EVENT WILL NETWORK BE LIABLE TO ANY PARTY FOR ANY DIRECT, INDIRECT, SPECIAL OR OTHER CONSEQUENTIAL DAMAGES FOR ANY USE OF THIS WEBSITE, OR ON ANY OTHER HYPERLINKED WEBSITE.


---