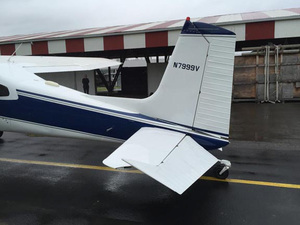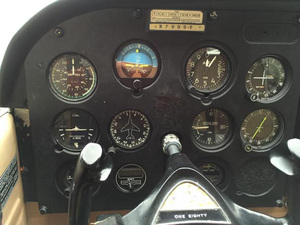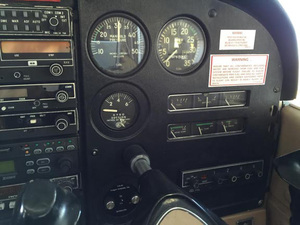 Click photo to enlarge
Sold
1967 Cessna 180H
Located in NW Washington
AIRFRAME:
2646 Total Time


Painted dark blue on white in 2011. Float kit. Long range fuel. Windshield and side windows new in 2011. Flap gap seals. Fuselage retractable ground handling handles. Last annual 4-16-2015.
---
ENGINE(S):
1103 SMOH


Continental O-470-R 230 HP. Overhauled by Bolduc Aviation Specialized Services, Inc. of Minneapolis, MN in 1994. Last annual 4-16-2015.
---
INTERIOR:
Creme and tan


New headliner in 2011. Original interior. Stowable BAS middle seats. Extended baggage. Utility configuration.
---
AVIONICS/PANEL:

King KMA 24 audio panel.
King KX 155 NavCom.
King KI 209 LOC/GS head.
King KY 97A Com.
King KN 64 DME.
King KR 87 ADF.
King KT 76A transponder.
ll Morrow Apollo GPS (inop)
---
OPTIONS:

Flap gap seals.
Float kit.
LR fuel tanks.
BAS 101 stowable seats.
BAS double inertial reel shoulder harnesses.
P-Ponk gear mod.
Retractable fuselage handles.
Ground service recepticle.
Original middle bench seat available.
Edo 2960 floats with dual fish lockers and larger water rudders available for $4,000.

---
HISTORY:

DH = Ground loop in 1984 and flipped in 2009. All repairs completed. Wings, vertical stabilizer, rudder, prop and engine replaced.



Edo 2960 floats available for $4,000.


---
PRICE:




$85,000 SOLD




All specifications and representations are believed to be accurate to the best knowledge of the seller; however, it is the buyer's responsibility to verify all information prior to purchasing this Cessna 180H.
---
The owner of this 1967 Cessna 180H has hired a professional to handle all aspects of this sale and does not wish to receive any calls from potential buyers. If you are ready to purchase this aircraft, but would like to speak to the owner before proceeding, we will be happy to make arrangements for you. Please respect the owners wishes in this matter and contact Bruce Tulloch with any questions you may have. Thank you!
---
For more info about this Cessna 180H for sale please contact:


Bruce Tulloch

TullAirCo

Mobile: (406) 270-7320
Office: (406) 755-4550






---

This website is owned and operated by The Plane Exchange, Inc. ("Network"). However, independent aircraft brokers supply all information concerning each aircraft advertised hereon. Network is not the seller of the aircraft, and neither verifies nor warrants the information provided by the advertiser. Network has no control over the information supplied and makes no representations as to the accuracy, completeness or truthfulness of the information. Information posted on the website may contain inaccurate or incorrect information. It is the responsibility of any website user, buyer or seller to verify all information concerning an aircraft prior to reliance thereon and prior to any purchase or sale transaction. Network makes no representations or warranties whatsoever concerning any aircraft advertised hereon. IN NO EVENT WILL NETWORK BE LIABLE TO ANY PARTY FOR ANY DIRECT, INDIRECT, SPECIAL OR OTHER CONSEQUENTIAL DAMAGES FOR ANY USE OF THIS WEBSITE, OR ON ANY OTHER HYPERLINKED WEBSITE.


---