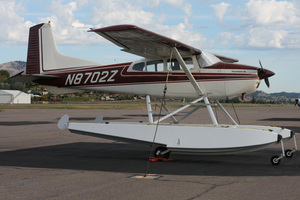 Click photo to enlarge
Sold
1975 Cessna 185F Skywagon
Located in NW Montana
AIRFRAME:
2238 Total Time


Factory Float kit. Long range fuel (84 gals.) Set up for skis. Very low time very popular Aerocet 3400 amphibious floats.(662 HOURS) Complete set of wheel gear. 2-blade McCauley MN 02A34C58-0 seaplane prop. 680 SOH. Maroon and red trim on white paint. Good condition. Annualed in June 2015.
---
ENGINE(S):
822 Since "0" time factory reman


Continental IO-520-D 300 HP. GAMI injectors. Installed engine in this aircraft in 1993. VAR crankshaft. Large oil cooler. Annualed in June 2015.
---
INTERIOR:
Grey, creme with red accents.


Very good condition. Re-upholstered in 2004.
---
AVIONICS/PANEL:

KMA 20 TSO Audio Panel.
King KX 155 NavCom w/ Loc.
Icom ICA-200 Com.
Apollo ll Morrow Fly Buddy GPS.
KR 87 ADF.
KT 76 Transponder.
Marker Beacon.
PS Engineering 1000 4-Place Intercom.
ECI CHT/EFT and Fuel Flow + gallons remaining.
---
OPTIONS:

Full Robertson STOL.
Gami injectors.
Float kit.
Long Range Tanks (84 gallons)
BAS Inertial reel shoulder harnesses.
Dual articulating front seats.
Hard points (tabs) for skis.
Set of land gear (8.50's)
Door stewards.
---
HISTORY:

Wisconsin, Minnesota, Alaska, California, Oregon and Montana. Some damage history (call broker). All repairs documented. Last 12 years have been mishap free.



Plane has been flown from Labrador, Continental U.S., Alaska, British Columbia and the Yukon.


---
PRICE:




$155,000 on Amphib Aerocets. $100,000 on land gear. (SOLD)




All specifications and representations are believed to be accurate to the best knowledge of the seller; however, it is the buyer's responsibility to verify all information prior to purchasing this Cessna 185F Skywagon.
---
The owner of this 1975 Cessna 185F Skywagon has hired a professional to handle all aspects of this sale and does not wish to receive any calls from potential buyers. If you are ready to purchase this aircraft, but would like to speak to the owner before proceeding, we will be happy to make arrangements for you. Please respect the owners wishes in this matter and contact Bruce Tulloch with any questions you may have. Thank you!
---
For more info about this Cessna 185F Skywagon for sale please contact:


Bruce Tulloch

TullAirCo

Mobile: (406) 270-7320
Office: (406) 755-4550






---

This website is owned and operated by The Plane Exchange, Inc. ("Network"). However, independent aircraft brokers supply all information concerning each aircraft advertised hereon. Network is not the seller of the aircraft, and neither verifies nor warrants the information provided by the advertiser. Network has no control over the information supplied and makes no representations as to the accuracy, completeness or truthfulness of the information. Information posted on the website may contain inaccurate or incorrect information. It is the responsibility of any website user, buyer or seller to verify all information concerning an aircraft prior to reliance thereon and prior to any purchase or sale transaction. Network makes no representations or warranties whatsoever concerning any aircraft advertised hereon. IN NO EVENT WILL NETWORK BE LIABLE TO ANY PARTY FOR ANY DIRECT, INDIRECT, SPECIAL OR OTHER CONSEQUENTIAL DAMAGES FOR ANY USE OF THIS WEBSITE, OR ON ANY OTHER HYPERLINKED WEBSITE.


---