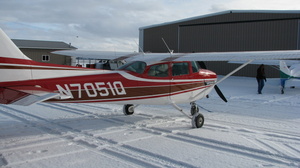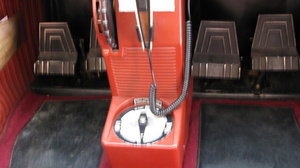 Click photo to enlarge
Sold
1972 Cessna 172L SUPERHAWK 180 HP
Located in Wyoming
AIRFRAME:
2746 Total Time


Nice paint
Always hangared
Wheel pants
---
ENGINE(S):
738.3 SNEW


180 HP Lycoming O-360-AIA (New in 1978)
New MT Constant Speed Propeller
170 SNEW (MTV 75 B/210-58)

---
INTERIOR:
Maroon Leather Seats


Clean leather interior in good condition
No rips or tears
Articulating seats
---
AVIONICS/PANEL:

King KMA 20 Audio Panel with 3 Light Marker Beacon
King KX-155 Nav/Comm with Glideslope
King KX-175B Nav/Comm
King KT78 Mode C Transponder
KR-86 ADF
David Clark ISOCOM Intercom
---
OPTIONS:

Flap Gap Seals
Aileron Gap Seals
Fuel Pressure Gague
---
HISTORY:

Pilot & Co-pilot Push to Talk
Useful Load 881 Pounds
AD's Complied
All Logs
Fresh Annual 12/13



This is a nice, low time Cessna 172 180 hp Super Hawk. The paints in great condition and the interior is good


---
PRICE:




$54,900




All specifications and representations are believed to be accurate to the best knowledge of the seller; however, it is the buyer's responsibility to verify all information prior to purchasing this Cessna 172L SUPERHAWK 180 HP.
---
The owner of this 1972 Cessna 172L SUPERHAWK 180 HP has hired a professional to handle all aspects of this sale and does not wish to receive any calls from potential buyers. If you are ready to purchase this aircraft, but would like to speak to the owner before proceeding, we will be happy to make arrangements for you. Please respect the owners wishes in this matter and contact Price Aircraft Sales with any questions you may have. Thank you!
---
For more info about this Cessna 172L SUPERHAWK 180 HP for sale please contact:


Linda Price

Price Aircraft Sales, Inc.

(231) 330 - 4533






---

This website is owned and operated by The Plane Exchange, Inc. ("Network"). However, independent aircraft brokers supply all information concerning each aircraft advertised hereon. Network is not the seller of the aircraft, and neither verifies nor warrants the information provided by the advertiser. Network has no control over the information supplied and makes no representations as to the accuracy, completeness or truthfulness of the information. Information posted on the website may contain inaccurate or incorrect information. It is the responsibility of any website user, buyer or seller to verify all information concerning an aircraft prior to reliance thereon and prior to any purchase or sale transaction. Network makes no representations or warranties whatsoever concerning any aircraft advertised hereon. IN NO EVENT WILL NETWORK BE LIABLE TO ANY PARTY FOR ANY DIRECT, INDIRECT, SPECIAL OR OTHER CONSEQUENTIAL DAMAGES FOR ANY USE OF THIS WEBSITE, OR ON ANY OTHER HYPERLINKED WEBSITE.


---