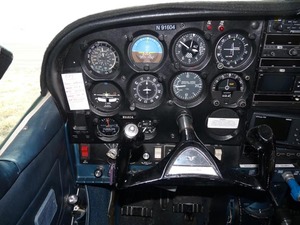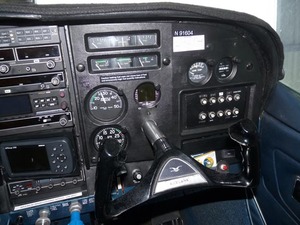 Click photo to enlarge
Sold
1969 Cessna 182M Skylane
Located in NW Montana
AIRFRAME:
4592 Total Time


Fresh annual in June 2017. McCauley 2A34C-66 prop. 370 SOH 9/22/06. Two tone blue on white paint. Last painted 12/16/98 at Straube's Aircraft Painting in Kingman, AZ. Epoxy primer used as well. Aft baggage door. Long range fuel...39 gals per side. Fuel cells replaced in 1978, LH cell replaced in 2005 and one in 2012. Wheel pants included but not installed.
---
ENGINE(S):
746 SMOH 3950 TT


Continental O-470-R (1500 TBO). Last overhauled at Engine Specialists in Chandler, AZ on 7/20/06. Fresh annual in June 2017.
---
INTERIOR:
Blue and white interior


Nice condition. Upholstry installed in 2010.
---
AVIONICS/PANEL:

PS Engineering audio panel w/ mkrs + 4-place intercom.
KX 155 TSO NavCom w/ GS/LOC.
KY 197 TSO Com.
Narco LC (in-inst. hole...tuneable).
Apollo GX55 GPS.
Garmin 396 map GPS.
KN 64 DME.
KX 76A Transponder.
EDM JPI 800 engine analyzer.
Aerotrim wing leveler.
Avionics master.
Music input.


---
OPTIONS:

Peterson Auto fuel STC.
BAS inertial reel front shoulder harnesses.
Venting Engineering fuel caps.
Rosen visors.
Aircraft Development strut fairings.
Walker air/oil separator fittings.
Engine pre-heat system.
Silver/Wells water separator.
Flap gap seals.
Bogart Aviation copper elec. wire STC.
---
HISTORY:

Montana, CA, VA and AZ. DH: Settled on nose gear (tire blew out) 3/7/82. Firewall damage/repaired. Light hail damage. Flap re-skinned, elevator replaced.



Clean, hangared Skylane!
EW = 1756 lbs.
Useful = 1044 lbs.
Gross = 2800 lbs.


---
PRICE:




$69,000 SOLD




All specifications and representations are believed to be accurate to the best knowledge of the seller; however, it is the buyer's responsibility to verify all information prior to purchasing this Cessna 182M Skylane.
---
The owner of this 1969 Cessna 182M Skylane has hired a professional to handle all aspects of this sale and does not wish to receive any calls from potential buyers. If you are ready to purchase this aircraft, but would like to speak to the owner before proceeding, we will be happy to make arrangements for you. Please respect the owners wishes in this matter and contact Bruce Tulloch with any questions you may have. Thank you!
---
For more info about this Cessna 182M Skylane for sale please contact:


Bruce Tulloch

TullAirCo

Mobile: (406) 270-7320
Office: (406) 755-4550






---

This website is owned and operated by The Plane Exchange, Inc. ("Network"). However, independent aircraft brokers supply all information concerning each aircraft advertised hereon. Network is not the seller of the aircraft, and neither verifies nor warrants the information provided by the advertiser. Network has no control over the information supplied and makes no representations as to the accuracy, completeness or truthfulness of the information. Information posted on the website may contain inaccurate or incorrect information. It is the responsibility of any website user, buyer or seller to verify all information concerning an aircraft prior to reliance thereon and prior to any purchase or sale transaction. Network makes no representations or warranties whatsoever concerning any aircraft advertised hereon. IN NO EVENT WILL NETWORK BE LIABLE TO ANY PARTY FOR ANY DIRECT, INDIRECT, SPECIAL OR OTHER CONSEQUENTIAL DAMAGES FOR ANY USE OF THIS WEBSITE, OR ON ANY OTHER HYPERLINKED WEBSITE.


---