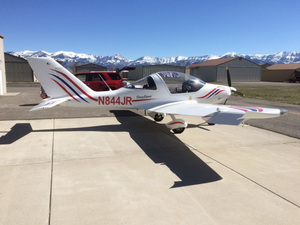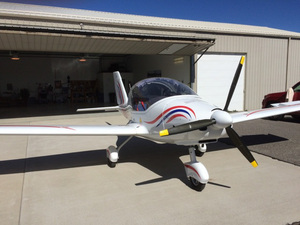 Click photo to enlarge
Sold
2005 Stingsport TL-2000
Located in Montana
AIRFRAME:
350 since new Total Time


Side-by-side seating. Paint, upholstry and interior in very good condition. All records for oil analysis, annuals and installation of additional equipment available. All service bulletins complied with. Equipped with a ballistic parachute system. 30 gallons fuel capacity in two wing tanks, with fuel pump. Fresh annual as of January 2016.
---
ENGINE(S):
350TT since new. 2000 TBO.


100 HP Rotax 912ULS. January 2016 annual.
---
INTERIOR:
Black with two-tone blue seats


Very good condition - original.
---
AVIONICS/PANEL:

Icom IC A-200 Com.
Trutrak Pictorial Pilot single axis autopilot (slaved to GPS).
EFIS Dynon D10A.
EIS GRT 2000.
Garmin GTX 320A transponder (modes A&C).
Spruce ACS 400 intercom.
Ameri-king AK 350 Alt decoder.
Ameri-king AK 450 ELT (121.5).
ACR PLB 350B Satellite beacon.
Garmin 295 GPS.
Garmin 500 Aera GPS.
Zaon XRT traffic avoidance.
Icom IC A-6 handheld with VOR capacity.
2 ea. Lightspeed ANR headsets.
Avionics cooling fan.


---
OPTIONS:

Upgraded brakes, larger fuel capacity, avionics cooling fan, position lights, Galaxy GRS balistic parachute. Retractable canopy sunshade. Carb heat.
---
HISTORY:

NDH. One owner from new.






---
PRICE:




$49,900 (Just slashed from $65k) SOLD




All specifications and representations are believed to be accurate to the best knowledge of the seller; however, it is the buyer's responsibility to verify all information prior to purchasing this Stingsport TL-2000.
---
The owner of this 2005 Stingsport TL-2000 has hired a professional to handle all aspects of this sale and does not wish to receive any calls from potential buyers. If you are ready to purchase this aircraft, but would like to speak to the owner before proceeding, we will be happy to make arrangements for you. Please respect the owners wishes in this matter and contact Bruce Tulloch with any questions you may have. Thank you!
---
For more info about this Stingsport TL-2000 for sale please contact:


Bruce Tulloch

TullAirCo

Mobile: (406) 270-7320
Office: (406) 755-4550






---

This website is owned and operated by The Plane Exchange, Inc. ("Network"). However, independent aircraft brokers supply all information concerning each aircraft advertised hereon. Network is not the seller of the aircraft, and neither verifies nor warrants the information provided by the advertiser. Network has no control over the information supplied and makes no representations as to the accuracy, completeness or truthfulness of the information. Information posted on the website may contain inaccurate or incorrect information. It is the responsibility of any website user, buyer or seller to verify all information concerning an aircraft prior to reliance thereon and prior to any purchase or sale transaction. Network makes no representations or warranties whatsoever concerning any aircraft advertised hereon. IN NO EVENT WILL NETWORK BE LIABLE TO ANY PARTY FOR ANY DIRECT, INDIRECT, SPECIAL OR OTHER CONSEQUENTIAL DAMAGES FOR ANY USE OF THIS WEBSITE, OR ON ANY OTHER HYPERLINKED WEBSITE.


---