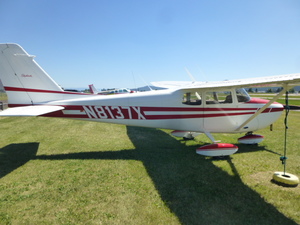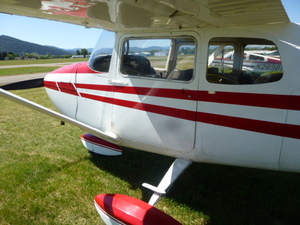 Click photo to enlarge
Sold
1961 Cessna 172B Skyhawk
Located in NW Montana
AIRFRAME:
6248 Total Time


New windscreen in 1990. Stripped and painted in 2007...along with replacement of door and side windows and strut fairings. Wheel pants. No known damage history. Red on white paint in good condition except for some chipping on engine cowling. MANUAL FLAPS! Fresh annual in November 2018
---
ENGINE(S):
609 SMOH


Continental O-300 145 HP. Overhauled in 2009. ECI new cylinder assemblies installed at overhaul. Fresh annual in November 2018.
---
INTERIOR:
Tan and brown


Newer seat and side-wall upholstery and headliner. Room in center stack location for more avionics.
---
AVIONICS/PANEL:

Narco audio panel.
VAL VHF Com 760 TSO.
RT-359A transponder.
PS Engineering PM 501 2-place intercom.
EGT.
Hobbs meter.
Volt meter.
Avionics master switch.

---
OPTIONS:

Cleveland wheels and brakes.
Auto-gas STC.
Wheel pants.
---
HISTORY:

This aircraft has lived in Virginia, Michigan, Washington and now in Montana.






---
PRICE:




$27,000 SOLD




All specifications and representations are believed to be accurate to the best knowledge of the seller; however, it is the buyer's responsibility to verify all information prior to purchasing this Cessna 172B Skyhawk.
---
The owner of this 1961 Cessna 172B Skyhawk has hired a professional to handle all aspects of this sale and does not wish to receive any calls from potential buyers. If you are ready to purchase this aircraft, but would like to speak to the owner before proceeding, we will be happy to make arrangements for you. Please respect the owners wishes in this matter and contact Bruce Tulloch with any questions you may have. Thank you!
---
For more info about this Cessna 172B Skyhawk for sale please contact:


Bruce Tulloch

TullAirCo

Mobile: (406) 270-7320
Office: (406) 755-4550





None




---

This website is owned and operated by The Plane Exchange, Inc. ("Network"). However, independent aircraft brokers supply all information concerning each aircraft advertised hereon. Network is not the seller of the aircraft, and neither verifies nor warrants the information provided by the advertiser. Network has no control over the information supplied and makes no representations as to the accuracy, completeness or truthfulness of the information. Information posted on the website may contain inaccurate or incorrect information. It is the responsibility of any website user, buyer or seller to verify all information concerning an aircraft prior to reliance thereon and prior to any purchase or sale transaction. Network makes no representations or warranties whatsoever concerning any aircraft advertised hereon. IN NO EVENT WILL NETWORK BE LIABLE TO ANY PARTY FOR ANY DIRECT, INDIRECT, SPECIAL OR OTHER CONSEQUENTIAL DAMAGES FOR ANY USE OF THIS WEBSITE, OR ON ANY OTHER HYPERLINKED WEBSITE.


---