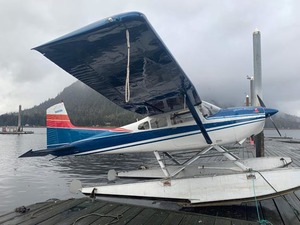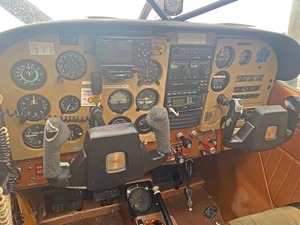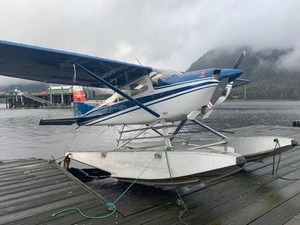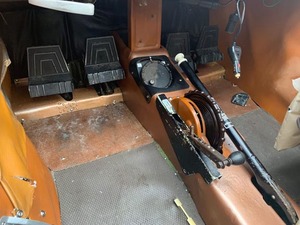 Click photo to enlarge
Sold
1975 Cessna 180J
Located in SE ALASKA
AIRFRAME:
16,565 Total Time


Red and two tone blue on white. Belly panels replaced and new paint in 2006 by Sealand Aviation LTD. of Campbell River, B.C. PK 3000 Floats. Additional set of Edo 2960 floats available (not included in this sale). Standard 65 gallon fuel. Sept. 2019 Annual. No landing gear but call broker for outside source.
---
ENGINE(S):
692 SMOH


Continental O-470-S 230 hp. Overhauled in 2007 by Avian Aeronautics of Bremerton, WA. Titan Nickel Cylinder Assemblies. Sept. 2019 Annual.

---
INTERIOR:
Tan


Good condition. Removable separate middle seats. Extended baggage.
---
AVIONICS/PANEL:

KMA 20 TSO Audio panel.
KX 170B NavCom.
Magellan Skynav 5000 GPS.
Garmin GPS Map 296.
Artex ME 406 ELT.
Icom IC-V8000 VHF-FM.
Horizon P-1000 Electronic Tachometer.
4-Place intercom.
Remote ELT switch.
ECI C-6 place CHT.


---
OPTIONS:

Rudder trim.
VGs.
P-Ponk bushing kit for elev. and rudder.
Stainless steel jackscrews and chain.
5 skylights in roof.
Factory float kit.
---
HISTORY:

Purchased new at Kenmore Air Harbor in Seattle and spent it's life in SE Alaska. One owner. Used in a Part 135 air taxi business and for fish spotting.






---
PRICE:




$95,000 SOLD




All specifications and representations are believed to be accurate to the best knowledge of the seller; however, it is the buyer's responsibility to verify all information prior to purchasing this Cessna 180J.
---
The owner of this 1975 Cessna 180J has hired a professional to handle all aspects of this sale and does not wish to receive any calls from potential buyers. If you are ready to purchase this aircraft, but would like to speak to the owner before proceeding, we will be happy to make arrangements for you. Please respect the owners wishes in this matter and contact Bruce Tulloch with any questions you may have. Thank you!
---
For more info about this Cessna 180J for sale please contact:


Bruce Tulloch

TullAirCo

Mobile: (406) 270-7320
Office: (406) 755-4550






---

This website is owned and operated by The Plane Exchange, Inc. ("Network"). However, independent aircraft brokers supply all information concerning each aircraft advertised hereon. Network is not the seller of the aircraft, and neither verifies nor warrants the information provided by the advertiser. Network has no control over the information supplied and makes no representations as to the accuracy, completeness or truthfulness of the information. Information posted on the website may contain inaccurate or incorrect information. It is the responsibility of any website user, buyer or seller to verify all information concerning an aircraft prior to reliance thereon and prior to any purchase or sale transaction. Network makes no representations or warranties whatsoever concerning any aircraft advertised hereon. IN NO EVENT WILL NETWORK BE LIABLE TO ANY PARTY FOR ANY DIRECT, INDIRECT, SPECIAL OR OTHER CONSEQUENTIAL DAMAGES FOR ANY USE OF THIS WEBSITE, OR ON ANY OTHER HYPERLINKED WEBSITE.


---