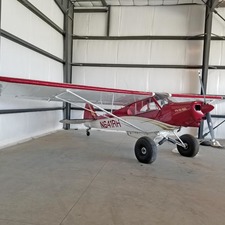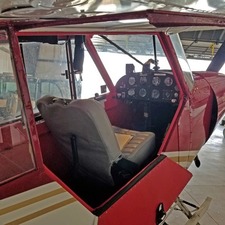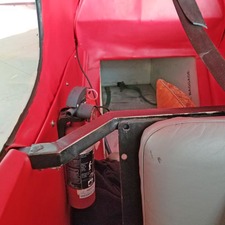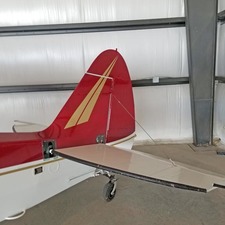 Click photo to enlarge
For Sale
1966 Piper PA-18-150 Super Cub
Located in NW Montana
AIRFRAME:
7190 Total Time


Beautiful red and gold on white paint in 2018. See long list of mods! October 2019 annual.
---
ENGINE(S):
898 SMOH


Lycoming O-320-B2B 160 hp. Overhauled in 2009 by Okanagan Aero Engines. Factory new cylinders installed at overhaul. October 2019 annual.
---
INTERIOR:
Red with grey seats


New interior in 2018. X-brace overhead. Icom A-200 VHF Com on right sidewall. Extended cargo area. Under-seat storage and aux fuel pump. Removable back seat and brace.
---
AVIONICS/PANEL:

Icom A-200 VHF Com.
---
OPTIONS:

Alaska Bush Wheels 31".
8.50x6 gear.
Airglass LW 2500 fixed wheel penetration skis.
Aileron/flap hinge sleeve mod.
Univair modified axles.
Aero Fabricator shoulder harness.
Under seat baggage.
Combination cargo (50#) and fuel (18 gal) belly pod.
Pod fuel pump.
VGs.
Engine cover.
Extended baggage.
Brake booster.
Refueling step.
Extended landing gear kit.
Safety cable.
X-brace overhead.
Removable back seat and brace.
Main landing gear long step.
Bracket air filter.
Tempest oil filter.
Boer prop.




---
HISTORY:

Canada and Montana.






---
PRICE:




$109,000




All specifications and representations are believed to be accurate to the best knowledge of the seller; however, it is the buyer's responsibility to verify all information prior to purchasing this Piper PA-18-150 Super Cub.
---
The owner of this 1966 Piper PA-18-150 Super Cub has hired a professional to handle all aspects of this sale and does not wish to receive any calls from potential buyers. If you are ready to purchase this aircraft, but would like to speak to the owner before proceeding, we will be happy to make arrangements for you. Please respect the owners wishes in this matter and contact Bruce Tulloch with any questions you may have. Thank you!
---
For more info about this Piper PA-18-150 Super Cub for sale please contact:


Bruce Tulloch

TullAirCo

Mobile: (406) 270-7320
Office: (406) 755-4550






---

This website is owned and operated by The Plane Exchange, Inc. ("Network"). However, independent aircraft brokers supply all information concerning each aircraft advertised hereon. Network is not the seller of the aircraft, and neither verifies nor warrants the information provided by the advertiser. Network has no control over the information supplied and makes no representations as to the accuracy, completeness or truthfulness of the information. Information posted on the website may contain inaccurate or incorrect information. It is the responsibility of any website user, buyer or seller to verify all information concerning an aircraft prior to reliance thereon and prior to any purchase or sale transaction. Network makes no representations or warranties whatsoever concerning any aircraft advertised hereon. IN NO EVENT WILL NETWORK BE LIABLE TO ANY PARTY FOR ANY DIRECT, INDIRECT, SPECIAL OR OTHER CONSEQUENTIAL DAMAGES FOR ANY USE OF THIS WEBSITE, OR ON ANY OTHER HYPERLINKED WEBSITE.


---