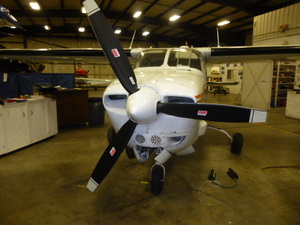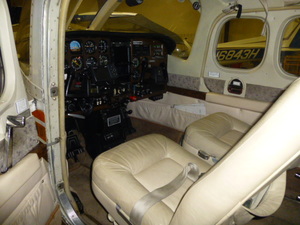 Click photo to enlarge
For Sale
1980 Cessna P210N Centurion ll
Located in NW Montana
AIRFRAME:
5472 Total Time


No known damage history.
Orange, Tan and Brown on White paint scheme.
Windscreen replaced in 2014.
Useful load is 1422 lbs.
Fresh annual as of 11-24-2001.
---
ENGINE(S):
SMOH 1737 since Factory "0" time.


Continental TSIO-520P.
Engine installed 4-22-2002.
Fresh annual 11-24-2021.
Oil analysis report available.
---
INTERIOR:
Tan/creme.


New interior in 2001.
---
AVIONICS/PANEL:

PS Eng. PMA 7000BT audio panel.
Avidyne GPS/Com G/Loc IFD 540.
Avidyne GPS/Com G/Loc IFD 440.
Dual 400 ADFs.
L3 NGT 9000 ADS-B in/out transponder.
Auto pilot/Flight director.
JPI EDM 830 Engine analyzer.
Artex 345 ELT.

---
OPTIONS:

De-ice system: weeping LEs, hot prop and windscreen plate.
OX concentrator.
---
HISTORY:

Midwest, Germany and Montana. NDH.






---
PRICE:




$239,000




All specifications and representations are believed to be accurate to the best knowledge of the seller; however, it is the buyer's responsibility to verify all information prior to purchasing this Cessna P210N Centurion ll.
---
The owner of this 1980 Cessna P210N Centurion ll has hired a professional to handle all aspects of this sale and does not wish to receive any calls from potential buyers. If you are ready to purchase this aircraft, but would like to speak to the owner before proceeding, we will be happy to make arrangements for you. Please respect the owners wishes in this matter and contact Bruce Tulloch with any questions you may have. Thank you!
---
For more info about this Cessna P210N Centurion ll for sale please contact:


Bruce Tulloch

TullAirCo

Mobile: (406) 270-7320
Office: (406) 755-4550






---

This website is owned and operated by The Plane Exchange, Inc. ("Network"). However, independent aircraft brokers supply all information concerning each aircraft advertised hereon. Network is not the seller of the aircraft, and neither verifies nor warrants the information provided by the advertiser. Network has no control over the information supplied and makes no representations as to the accuracy, completeness or truthfulness of the information. Information posted on the website may contain inaccurate or incorrect information. It is the responsibility of any website user, buyer or seller to verify all information concerning an aircraft prior to reliance thereon and prior to any purchase or sale transaction. Network makes no representations or warranties whatsoever concerning any aircraft advertised hereon. IN NO EVENT WILL NETWORK BE LIABLE TO ANY PARTY FOR ANY DIRECT, INDIRECT, SPECIAL OR OTHER CONSEQUENTIAL DAMAGES FOR ANY USE OF THIS WEBSITE, OR ON ANY OTHER HYPERLINKED WEBSITE.


---