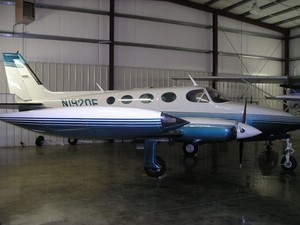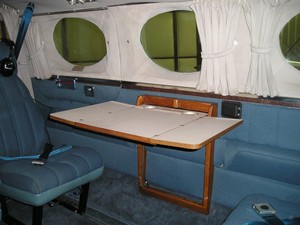 Click photo to enlarge
Sold
1979 Cessna 340A
Located in Located in NW Montana
AIRFRAME:
6764 Total Time


Fresh annual just completed 9-1-15.
Shiny white paint with Metallic Green trim and Black accents
Very good condition
Always hangared

---
ENGINE(S):
LE 409 SMOH RE 565 SMOH (0 STOH Right engine)


Continental TSIO-520-NB4 with intercoolers, 310 HP, 1600 TBO
(RE)565 since rebuilt/zero timed by Teledyne Continental on 1/17/01
(LE) 392) since rebuilt/zero timed by Teledyne Continental on 7/5/00
111 hours SOH 3 Blade Props. Fresh annual just completed as of 9-1-15. Right engine was just topped. Ran well but static compression ratios ran low. Cylinders overhauled at Edwards Jet Center in Billings, MT.
---
INTERIOR:
Very Good Condition


Green cloth seats
Green and grey sidewalls
Green Carpet
---
AVIONICS/PANEL:

Garmin IFR panel - New April 2007!
Garmin GMA 340 Audiopanel with 3 LMB
Garmin GNS 530W GPS/Nav/Com coupled with
King KCS 55A HSI
Garmin GNS 430 with Glideslope
Bendix radar
King Radar Altimeter
Garmin Transponder
Cessna 300 Autopilot
Six place intercom with music port
Quartz Chronometer digital clock
Hobbs Meter
EGT
---
OPTIONS:

Full Deice: Boots, props, windshield plate
Holds 183 gallons of fuel
---
HISTORY:

Fresh annual just ccompleted as of 9-1-15.. All ADs complied with
Pitot/Static System certified
Nose gear failed to extend in 2006. Pilot shut both engines down prior to touchdown.



This aircraft has always been hangared in Montana. Well maintained. No corrosion. Professionally flown. ** Seller willing to look at trades for single engine aircraft, real estate, etc. Bring ideas!


---
PRICE:




$165,000 SOLD




All specifications and representations are believed to be accurate to the best knowledge of the seller; however, it is the buyer's responsibility to verify all information prior to purchasing this Cessna 340A.
---
The owner of this 1979 Cessna 340A has hired a professional to handle all aspects of this sale and does not wish to receive any calls from potential buyers. If you are ready to purchase this aircraft, but would like to speak to the owner before proceeding, we will be happy to make arrangements for you. Please respect the owners wishes in this matter and contact Bruce Tulloch with any questions you may have. Thank you!
---
For more info about this Cessna 340A for sale please contact:


Bruce Tulloch

TullAirCo

Mobile: (406) 270-7320
Office: (406) 755-4550





Jessica van Garderen.

jessica@theplaneexchange.com




---

This website is owned and operated by The Plane Exchange, Inc. ("Network"). However, independent aircraft brokers supply all information concerning each aircraft advertised hereon. Network is not the seller of the aircraft, and neither verifies nor warrants the information provided by the advertiser. Network has no control over the information supplied and makes no representations as to the accuracy, completeness or truthfulness of the information. Information posted on the website may contain inaccurate or incorrect information. It is the responsibility of any website user, buyer or seller to verify all information concerning an aircraft prior to reliance thereon and prior to any purchase or sale transaction. Network makes no representations or warranties whatsoever concerning any aircraft advertised hereon. IN NO EVENT WILL NETWORK BE LIABLE TO ANY PARTY FOR ANY DIRECT, INDIRECT, SPECIAL OR OTHER CONSEQUENTIAL DAMAGES FOR ANY USE OF THIS WEBSITE, OR ON ANY OTHER HYPERLINKED WEBSITE.


---